After one month in Italy we have learned a lot about communication at the kitchen table. It is striking to see how easy it can be: Nomnomnom, mjammjamjam and Mhh… This kind of Esperanto, the language of food, is spoken in our kitchen container almost every day. Here is a short vocabulary guide about how we communicate:
With gestures:
In Italy, there is a gesture that sums it up, if you find something yummie: Just poke your right finger into your cheek, turn your finger twice and start smiling: This means, you like it.
With words:
The easiest way to get to know each other is by putting nametags on our aprons. Here you can see, how Rita from Italy had hers translated to Arabic. We have learned to say "Buon appetito", of course. We also learned to say Poftă bună, which is Romanian. We asked most of our table guests how to start the meal in their mother tongue and learned:  In some African dialects there is no such expression. When people sit at the table they just start eating. Fair enough – and easy to understand!
With actions: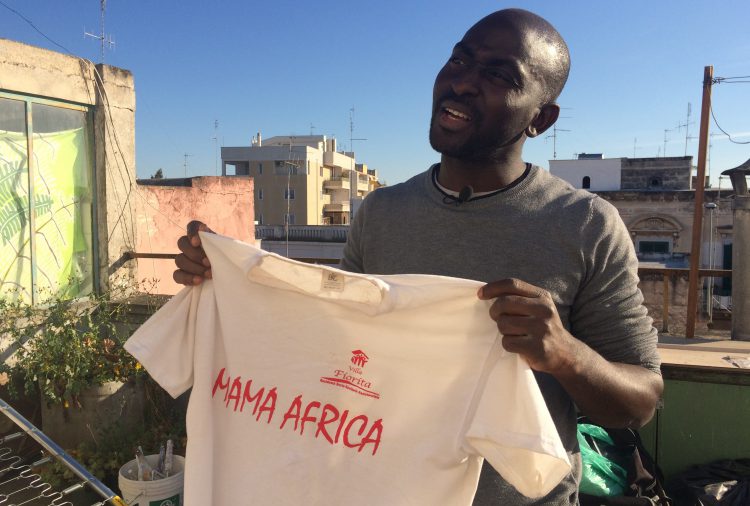 Playing football together seems to be one of the best international languages. We played together with teams from a local group called Mama Africa close to the container. In the kitchen there are other actions to be taken:  Folding the napkins, offering a spoon full to try the sauce or even rearranging the wooden benches to one big table – all these signs and signals cannot be misinterpreted. They all have the same message: You are welcome at this table. Or, how our Co-founders once put it: Mi casa e su casa!
Also beautiful: On some evenings we experienced that all of our guests agreed to speak Italian, no matter if they were from Gambia, Afghanistan, Mexico or Cote d'Ivore. Sometimes, it was only the German folks of the kitchen-team who could't talk in Italian while all the others – migrants and native Italians – understood each other very well. After all, learning a new language seems to be like trying out a new recipe: You need to have a kitchen, the right ingredients and good cooking partners. This is how integration work. We love the taste of that.