So, these are some of the fabulous people we cooked with in the kitchen container during the past week. We decided to just let them speak for themselves. All we wanted to know was: Why are you here tonight?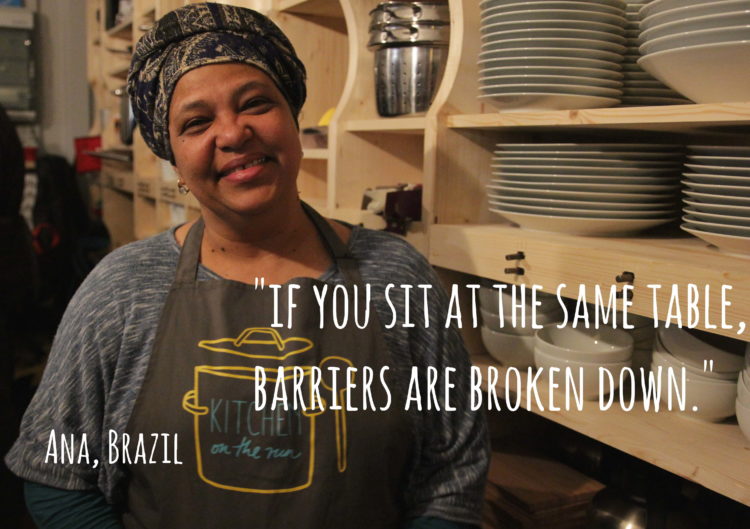 Our first chef de cuisine was Ana Estrela together with her friends from a local organization called Ethnic cook. We were excited: How would people react to the new kitchen? Would everything work out? How should we communicate? But already when we went grocery shopping with Ana it became clear to us, that there was nothing to worry about. This Brazilian lady just brought so much energy and good vibes into the kitchen, that the five different dishes seems to be cooked almost instantly. She says: "Kitchen on the Run ist a wounderful idea. You share the meal – and if you eat, your are relaxed. I had no expectations, but it has become really nice here. I am happy."

One of our guests on the first evening was Ammar Abu Jassa, a 23 year old young man from Jerusalem. He says: "I love to make people happy with my food. Tonight I prepared Hummus, the recipe is from Palestine. We used to eat Hummus with bread for breakfast – and in the evening also. I live alone for five years now and I haven't seen my family since I was 16. After I left my home, I went to Algeria to study Political Sciene, now I am here in Italy and I miss my family. I live in a city nearby which is called Trani, it is pretty much like Jerusalem, too. I am glad to be here in the container now. This is different than in a restaurant. In this kitchen everyone is smiling."
The other day we had visitors from a local group called "Mama Africa".
Babucarr Manneh, 20 years, from Gambia, also shared his story with us:
"I am so happy that everyone likes my food. I cooked so-called Jollof Rice, a one-pot rice dish with vegetables, chicken, onions and tomatoes. The first time I cooked this recipe was with my mother and my sister back in Gambia. When I was nine years old they taught me how to cut the onions. Now I'm grown up and I can cook for myself (starts laughing). The kitchen in Gambia was a local kitchen with fire wood on the ground, it smelled very different. This container kitchen is much bigger and more comfortable. I love to get to know people here like this, no matter if they are from Nigeria, Germany, Gambia, Italy. I like everyone to be happy, cooking is really relaxing for me. Every sunday we come together with the people from "Mama Africa" and have lunch together.
Our table manners are a little bit different than the ones in Europe. In Gambia we always eat with our hands and we share everything on the table. In Africa we say: Eating together brings peace. Wherever we eat, we share everything.
 I miss my family, I haven't seen them for more than five years. I talk to them on the phone maybe once a week. In 2013 I came to Italy, before that I was in Libya for two years. I went trough Senegal, Mali, Burkina Faso and Niger. In Lybia it was terrible, a man put a gun on my head and took all the money that was left. I was arrested, then I took a boat to Italy. I came with nothing besides what I wore. Now, I am still waiting for the documents. I learn Italian in a language school and sometimes I can do little jobs, like cleaning parks. I dream of becoming a football player. I play in a team here – today I scored two goals!"