First of all: Thank you so much for your great feedback, support and help after our "we-won-message", it was truly overwhelming! We received at least 100 valuable contacts, hints and ideas about how to make our project even better.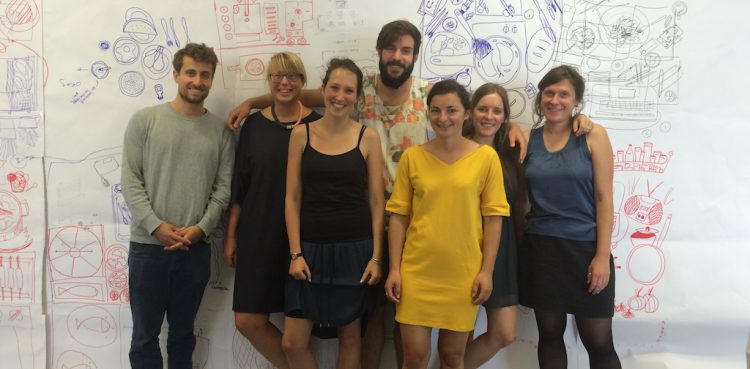 So, Rabea and I met on Monday in Berlin to dive into a very busy week full of meetings, strategic thinking about financing, and fine-tuning our journey. The first meeting we had on Monday morning was with Ninon from Über den Tellerand e.V. After winning the Advocate Europe Challenge we became aware that our projects work in similar ways and pursue the same goals: creating a new togetherness among refugees and locals through cooking events where participants share food, stories and their culture.
We met Ninon at the KITCHEN HUB, a unique place for get-togethers in Berlin Schöneberg and the new home of Über den Tellerand that will be designed and built in the next 6 weeks. They teamed up with Nina from CoCoon – contextual construction, based at the School of Architecture of the Technische Universität Berlin, who directs a summer school with Architecture students and refugees to create the space. We loved the spirit and the people and are very much looking forward to work together. If you want to help, just contact them. They are still looking for a few pairs of hands to turn the kitchen hub into a great new home for cooking classes, workshops, community meetings, etc.
On Wednesday we met Corinna and Jessy from CUCULA, a refugee company for crafts and design. They build really cool furniture together with young refugees in Berlin. CUCULA wants to establish a 'welcoming culture', which helps refugees break with the notion of 'victimhood', and at the same time unfold their self-efficacy and to open up a perspective for a self-determined life – a goal that deeply unites our projects!
…and in between we are calling the first potential sponsors, sending out requests for further funding and hope that we can soon share our next success with you!